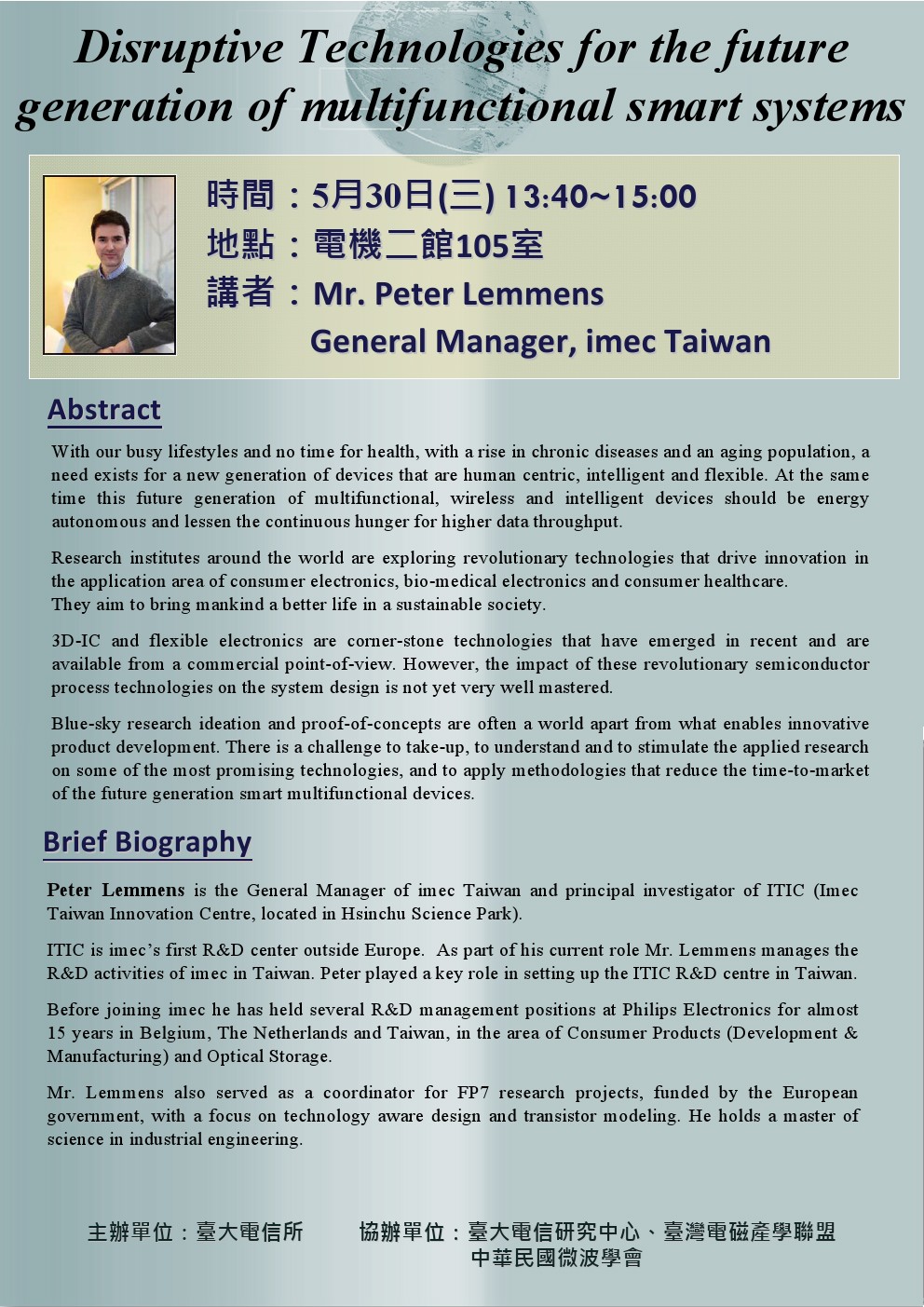 Disruptive Technologies for the future generation of multifunctional smart systems
Date

May 30,2012

Time

13:40~15:00

Speaker

Mr. Peter Lemmens (Generall Manager, iimec Taiiwan)

Place

EE2-R105, NTU
Abstract:
Abstract
With our busy lifestyles and no time for health, with a rise in chronic diseases and an aging population, a need exists for a new generation of devices that are human centric, intelligent and flexible. At the same time this future generation of multifunctional, wireless and intelligent devices should be energy autonomous and lessen the continuous hunger for higher data throughput.
Research institutes around the world are exploring revolutionary technologies that drive innovation in the application area of consumer electronics, bio-medical electronics and consumer healthcare.They aim to bring mankind a better life in a sustainable society. 3D-IC and flexible electronics are corner-stone technologies that have emerged in recent and are available from a commercial point-of-view. However, the impact of these revolutionary semiconductor process technologies on the system design is not yet very well mastered. Blue-sky research ideation and proof-of-concepts are often a world apart from what enables innovative product development. There is a challenge to take-up, to understand and to stimulate the applied research on some of the most promising technologies, and to apply methodologies that reduce the time-to-market of the future generation smart multifunctional devices.
Brief Biography

Peter Lemmens is the General Manager of imec Taiwan and principal investigator of ITIC (Imec Taiwan Innovation Centre, located in Hsinchu Science Park). ITIC is imec's first R&D center outside Europe. As part of his current role Mr. Lemmens manages the R&D activities of imec in Taiwan. Peter played a key role in setting up the ITIC R&D centre in Taiwan.

Before joining imec he has held several R&D management positions at Philips Electronics for almost 15 years in Belgium, The Netherlands and Taiwan, in the area of Consumer Products (Development & Manufacturing) and Optical Storage.

Mr. Lemmens also served as a coordinator for FP7 research projects, funded by the European government, with a focus on technology aware design and transistor modeling. He holds a master of science in industrial engineering.
Attachment:
« Back to Events